Corazon Events Founder Adrian Teng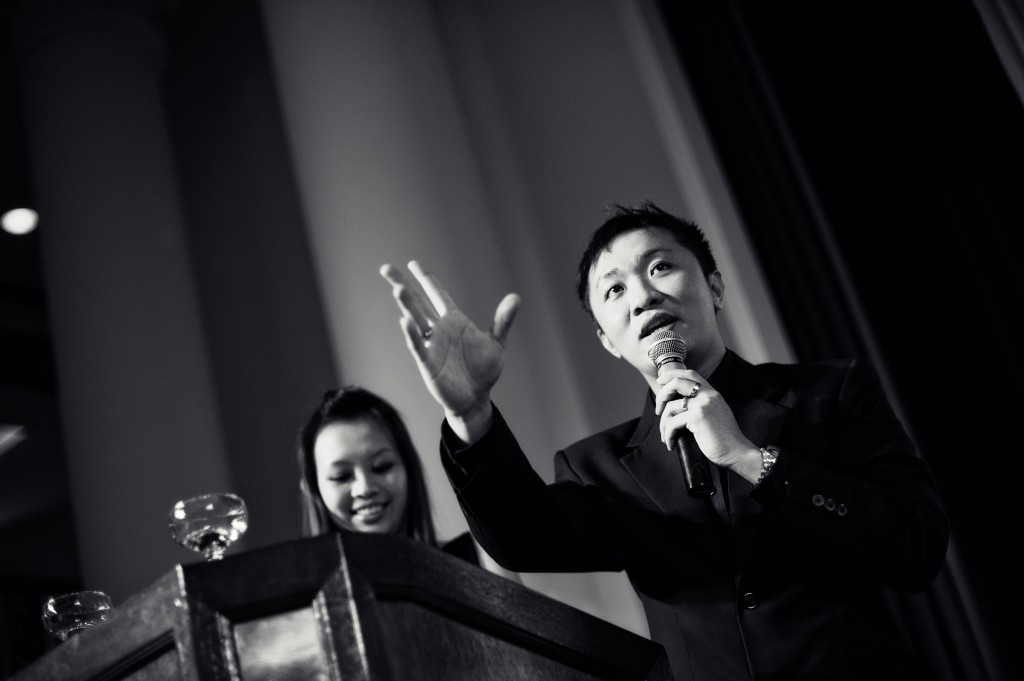 In time- starved Singapore, planning for a wedding needs a lot of time and effort to make the event perfect. Corazon Events, which is a boutique that offers a one-stop shop solution such as wedding coordination and wedding emcee and band with entertainment for your guests.
http://www.youtube.com/watch?v=4DAghqdG5m4
 Corazon means "heart" in Spanish. So "heart" events basically means weddings. Started by Mr. Adrian Teng & his wife, this dynamic duo gains the most satisfaction from the happy faces of an appreciative couple and the applause of the audience. 
1) What is Corazon's belief when it comes to handling the couples?
To serve with our heart. We take on the view that our customers are friends who require our help in their event. We treat them professionally, with sincerity and most will reciprocate. 
2) When did you attend the emcee course with Flying Dutchman and what was it like to learn from him? How has it helped you?
I attended the course in 2011. I was already hosting then but I just want to learn more and improve myself. Mark van Cuylenburg is a very friendly man and shares his vast experience with us. The course has definitely helped me a lot and improved my hosting skills in the technical aspects, stage presence, crowd observation and quick thinking.
3)  Share some tips and advise for wedding couples (as seen on The Wedding Bureau):
#1. Start planning your wedding more than a year in advance. Get tons of stuff done early. This keeps the stress level low and also allows you time to do a little shopping around for wedding vendors that could best cater to your needs. Enjoy the wedding planning process with your other half too!
#2. Be yourself on the actual day. Don't be too stressed and stiff. There are people around to help you and sometimes the best pictures taken are non-posed and candid. So relax and nothing is perfect.
#3. Share Love.
It doesn't have to be your love story. It may just be love towards your parents. Share it. Let your wedding be memorable.
To read more about Corazon Events, check out the article at The Wedding Bureau 
http://www.weddingbureau.com.sg/take-some-load-your-wedding-planning-corazon-events-discount